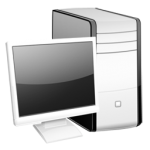 In today's competitive environment, effective IT systems and quality data are key drivers for business. Our aim is to help give you the confidence that your IT systems are working for the good of your business, both now and in the future.
With the increasing use of the internet to do business, cyber security is something all businesses should be aware of. In the 2022 information security breaches  to business have increased.We are able to provide guidance, systems and software to  small businesses, who are increasingly under attack.
We will set up a complete package for :
managing risk
providing staff awareness and training
increasing network security and protection against malware
providing guidance for businesses that outsource their IT service
We will help small businesses protect their assets, customers and their peace of mind. They can save money through more efficient security controls, and gain competitive advantage by being seen to take security seriously.
Hardware Support

Here We know how important your data and applications are to You and we will make every effort to restore your systems to its pre-failure state – not as it was when you took it out of the packaging -We will recover your data, restore your applications and restore your work!
Computer equipments are like cars, they need regular maintenance. This includes cleaning (inside and out) to remove dust which can cause overheating and parts failure, updates to software such as security and application patches, maintenance of Antivirus and security software and general technical advice.

A computer network topology is the physical communication scheme used by connected devices. We can help to create the most cost effective and efficient network structure for your business.

Contact Us 
  today to arrange a meeting to discuss your requirements. 

Upgrades and Installations
If you have equipment which you have purchased elsewhere but need assistance installing or configuring we are here to help.
We can also supply, install and configure a wide range of upgrades to your systems from memory and hard disks to new monitors.

Contact Us 
  today to arrange a meeting to discuss your requirements.